Report of the Rushlight Club Fall 2016 Meeting Deerfield, MA
by Martha O. DeBlieu
Deerfield area attractions, sales, talk on bulls-eye lens lamps top the Rushlight Club's Fall meeting. The Western Massachusetts Pioneer Valley's diverse offerings, including Historic Deerfield Village, an upscale antiques show, plus an extensive talk on bulls-eye lens lamps and a lighting silent auction drew some 35 members to the Rushlight Club's 2016 Fall Meeting, October 7th to 9th.
Following Friday afternoon's Governing Board meeting, many registrants socialized and shared lighting experiences and expertise in the club's hospitality suite at the Howard Johnson Express Inn, Amherst Hadley, in Hadley, MA.
Lighting in Historic Deerfield Museum
A visit to Historic Deerfield's Flynt Center of Early New England Life kicked off Saturday's activities. Amanda Lange, director of Historic Deerfield's Curatorial Department, and Ned Lazaro, collections manager, presented a slideshow overview of Historic Deerfield and the museum's lighting and other key collections. Historic Deerfield's five blocks of historic buildings include 12 historic homes dating from 1730 to 1850 that are open for viewing. The homes furnishings and the museum collections convey the early lifestyles of the town, which dates back to 1669.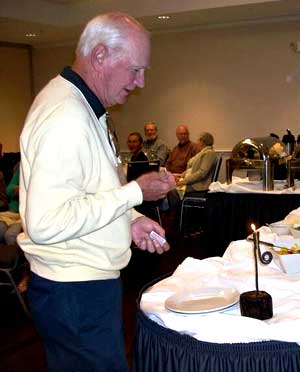 Vice-President O'Connell Lighting the Rush
Conference-goers got a close-up view of some of the museum's brass and pewter candlesticks, followed by self-guided tours of the museum and the village's historic buildings. The museum includes early New England-made whale oil, lard, camphene, crusie, oil, and kerosene lamps and lanterns; unique candlesticks, sconces, and chandeliers constructed from various metals, glass and other materials; as well as ceramics, porcelain, pottery, textiles, clocks, and furniture.
Members also could peruse and purchase treasures at the premiere two-day Historic Deerfield Antiques Show, featuring 18 th and 19 th century American furniture, lighting, art, ephemera, and other objects. Nearby antique stores, the Emily Dickinson museum and homestead, the Amherst History Museum at the Strong House, and the Joseph Allen Skinner Museum at Mt. Holyoke College also drew visitors.
The membership meeting included officer elections for 2017. A show-and-tell session, and expanded lighting silent auction/sale highlighted Saturday night's banquet at the nearby Marriott Courtyard Inn, Amherst Hadley.
Among show-and-tell entries, Myrna Newgent shared an unusual candle mold. Dick O'connell offered an incubator lamp with wick raiser patented on Feb. 17th, 1903. Toni Cook showed an early wrought iron candle holder. Chuck Leib pointed out some of Peter Gregory's unique finds, including a Samuel Rust lard lamp with wick raiser patented Sept. 14th, 1843, a Smith and Stonesifer Patent Pump Lamp for burning lard by Tilton and Sleeper of Fremont, N.H., patented Aug. 8th, 1854, a Davis lamp patented May 6th, 1856, an Henry Hassenpflug lard burning lamp with cylindrical reservoir base, patented Aug. 20th, 1861 and an F. Arnold foot stove and lantern patented on April 11th, 1854.
David Kilroy Traces the Evolution of the Bulls-Eye Lens Lamps
The weekend wrapped up Sunday morning with a presentation on bulls-eye lens lamps by David M. Kilroy of Pittsfield, MA, at the Courtyard Marriott following a breakfast buffet.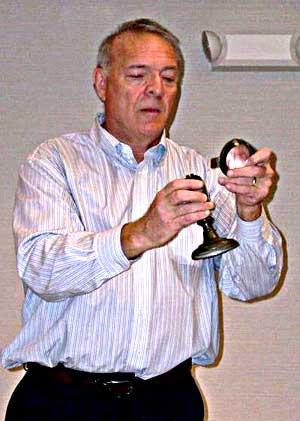 David Kilroy: Evolution of the
Bulls-Eye Lens Lamps
Armed with diverse examples of bulls-eye lens lamps, many manufactured in the Boston area and most pewter or silver, Kilroy reviewed the history of the lamps. He started with the classic Roswell Gleason lens lamp made from 1840 to 1865. He detailed the evolution of the Gleason lens lamps, showing variations and similarities in fonts, bases, levers, shafts, and other components.
The lenses were applied to both oil and fluid lamps. Kilroy showed both examples, as well as single and double lens lamps. Calling the lamps "largely an American phenomenon," despite an English patent filed in 1793, most of the ones Kilroy showed were manufactured in the Boston area.
Boston-area lens lamp makers, such as Reed and Barton, Smith & Co., Crackbottom, and James Putnam, joined in manufacturing the lamps from the mid-1800s through 1910. Kilroy also touched on reproduction and fake lens lamps made from 1900 to 1910, some even bearing a "London" stamp, as well as others manufactured in the Midwest as late as the 1990s. He finished with later examples produced by other manufacturers from Boston, New Hampshire, Ohio, and Minnesota, from 1900 through the present.
Participants were bid a safe journey home and urged to reunite at the spring conference in Ohio.
---